Best ways to protect your airbnb in Dayton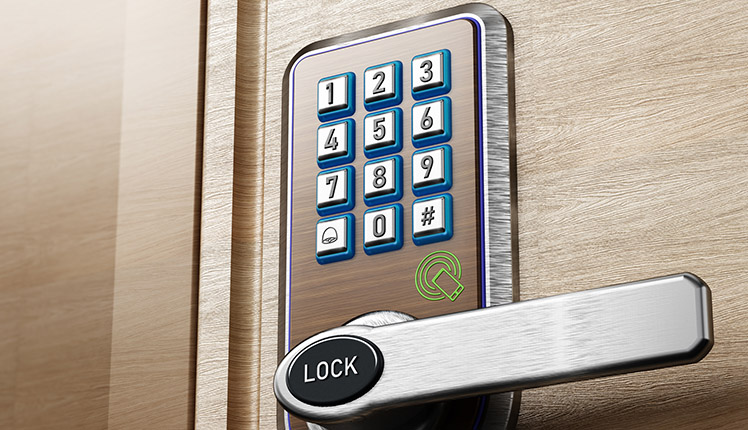 Regardless of whether you rent out the family lake house or you run an assortment of Airbnbs, it can be a challenge to protect your rental properties in Dayton. Unless you're always on site, it's easy to wonder about keys getting copied or former renters unexpectedly showing up. And what should you do if there's an emergency like a fire at the property while it's being leased?
From enhanced locks to comprehensive security with home automation, here are some helpful tips on how to protect your Airbnb in Dayton.
Smart door locks eliminate people from copying your keys
When a visitor vacates the premises, they could follow your instructions and provide the keys for the next guest. However, if a tenant took or made a copy of a key, they could access your place again later. Of course, you could change the locks if a key is "misplaced", but that is not a timely or cost-effective solution.
You'll want to use smart door locks that operate along with your security system to alleviate these worries. You will then provide each visitor their own unique entry code. When tenants depart, there's no need to worry with a key dropoff. All you need to do is customize the temporary code to no longer work after they're gone. If former occupants return and make an attempt to enter with their previous access code on the door, you will be alerted with an update of a failed entry on your mobile device.
Smart home technology makes available rentals appear to be inhabited
The goal is that your Dayton rental property will have a steady flow of renters, but that isn't likely to always be possible. However, you always want to give an impression that someone is home so your place isn't a potential target for thieves. Installing a security system with home automation affords you the opportunity to use smart lights, motion sensors, and video cameras that make your rental look inhabited.
You can put your plan in motion by scheduling some lights to come on at specified times of the day. You will also want your security smartphone app to warn you if your video cameras detect an intruder lurking around your perimeter or walking toward the front door. You have the opportunity to employ the two-way audio capability so they know they're being watched or program your lights to automatically illuminate when a camera or motion detection equipment discerns suspicious activity.
Protect your Dayton rental property with 24-hour monitoring
Your renters can sleep easy if they feel protected against burglars, specifically when Dayton is unfamiliar territory. In the event a thief tries to gain entry, your security system will not only sound a siren but will also ping your 24/7 monitoring team. Now, no matter where you are, assistance will be forthcoming. Your monitoring experts will even act as your point person and patch you in whenever you're free.
Along with break-ins, your monitoring team can be connected with fire alarms, water sensors, and carbon monoxide detectors. It is likely to be upsetting for your visitor if flooding occurs or a fire erupts. You will then get a phone notification that an emergency has happened, but a representative can also authorize help from emergency personnel while you're on the way.
Get started with a modern home security package in Dayton
Protect your rental in Dayton when you get a home security system. Luckily, Vivint provides options like smart lighting, smart door locks, and 24-hour monitoring. Touch base with us today and our home security experts will personalize a plan that makes sense for your property. Dial (937) 888-2339 or submit the form to begin!
Areas Served Around Dayton By Smart Security Specialists Your Local Vivint Authorized Dealer